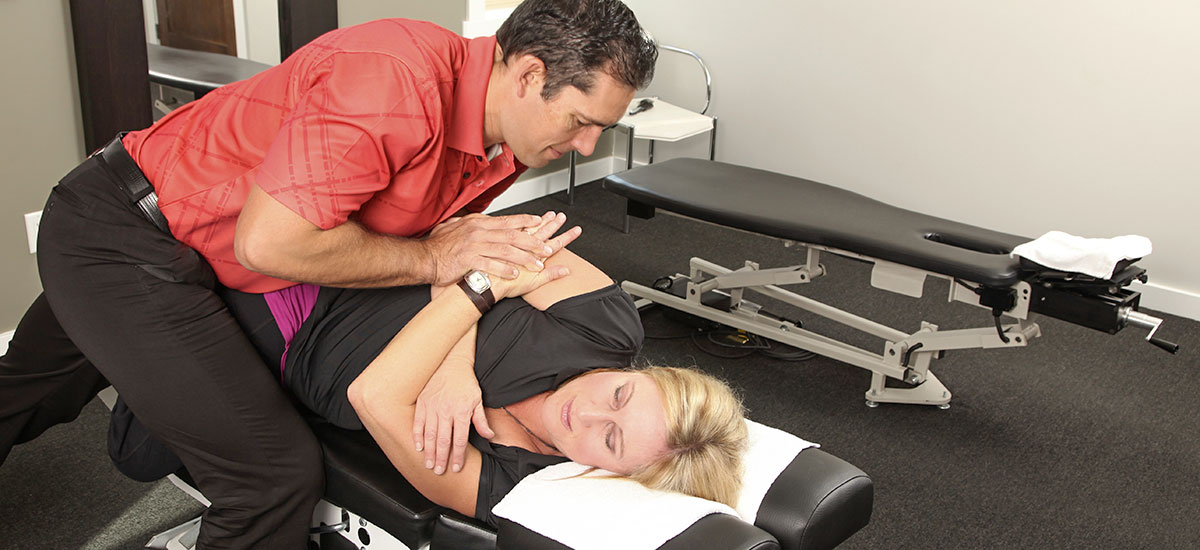 Chiropractors are spinal care experts who use natural, hands-on techniques to diagnose, treat, and prevent conditions related to the spine, nervous system, muscles and joints. Chiropractors use a variety of techniques, and are experts in providing adjustments to the spine. Chiropractors are known for treating low back pain, neck pain, and headaches, but can also provide the best, natural treatments for all conditions related to your nerves, muscles, and joints.
Chiropractors believe in treating the individual as a whole and use hands-on techniques that stimulate the natural healing properties of the body. While Chiropractors are known primarily for treating disorders of the spine, such as low back pain or neck pain, they are also equipped to treat any condition affecting the neuromusculoskeletal system, such as the shoulders, hips, and knees.  Chiropractors treat with a holistic approach. While the focus is on a patient's nerve, muscles and joint function, there is always consideration of nutrition, exercise, sleep, posture, stress, etc.
As one of the largest primary-contact health care professions, chiropractic is a non-invasive, hands-on discipline that focuses on the neuromusculoskeletal system.  Your chiropractor will use a manual approach to identify the underlying cause of your problem, and provide treatments and recommendations to overcome your injury and address your overall well-being.
Chiropractors treat people of all ages. At Definitive Chiropractic and Wellness Centre, we treat anyone who is looking to improve their health. We see all types of patients, including high performance athletes, recreational athletes, office workers, pregnant women, and children.  Commonly, people who suffer from workplace related injuries, sports injuries, motor vehicle injuries, and stress related ailments, see chiropractors for pain relief, improved physical function, and overall health.  Regardless of what brings you to our clinic, our purpose is to work on the individual goals of each and every one of our patients.
Your first appointment
You will be warmly welcomed and made to feel at home in our comfortable clinic environment.
You'll be asked to arrive to your first appointment 10-15 minutes early to complete necessary paperwork. Our new patient forms provide us with your health history and information on your condition.
During your first appointment, the purpose is to discuss your health goals and see if you're a good candidate for chiropractic care. If it looks promising, a thorough examination will help us identify the likely cause of your problem. The chiropractor will then use a variety of diagnostic techniques to determine a diagnosis, including asking questions about your injury or condition, performing a physical examination, and perhaps obtaining x-rays if necessary.
They will then recommend a treatment plan that is tailored to you individually, and if agreed upon, consent and treatment will commence.  It is very important to maintain the care plan recommended for you, because, like a regular workout at the gym, each visit builds on the ones before. Miss a visit and we lose the momentum necessary to make needed changes.
Common Conditions Treated by Chiropractic:
Back pain
Neck pain
Headaches
Disc herniations
Sprains and strains
Sports injuries
Sciatica
Pregnancy-related pain
Dysmennorhea
Pinched nerves
Plantar Fasciitis
Tennis/Golfers Elbow
Muscle tension
Arthritis
Digestive problems
Asthma
Colic
Ear infections
Weakened immune systems
Motor vehicle accident injuries
Workplace injuries
Education
Chiropractors have a minimum of 7 years of post-secondary education, including a 4 year Doctor of Chiropractic degree. Our chiropractors attended the Canadian Memorial Chiropractic College (CMCC) in Toronto, Ontario, which is recognized for creating leaders in spinal health. They have also all completed previous university degree programs. Chiropractors have extensive training in anatomy, neurology, and physiology, and spend 4 years practicing hands-on treatment techniques. There is also a one year supervised clinical internship where students treat patients in a supervised clinical setting.
Chiropractors are required to pass 3 national licensing exams through the Canadian Chiropractic Examining Board (CCEB) prior to receiving their licence to practice in Canada.  The College of Chiropractors of Ontario (CCO) licences all members that practice within the province. The Ontario Chiropractic Association (OCA) is a professional association who serves their members and the public by advancing the understanding and use of chiropractic care. All chiropractors are required to hold professional liability insurance through the Canadian Chiropractic Protective Association (CCPA).